---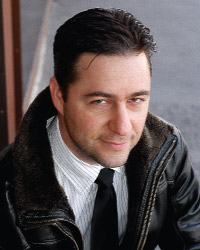 Jason Cutmore
July 8 – 23
Jason Cutmore has performed piano recitals and collaborative concerts throughout North America, Europe and India, winning praise for his "brilliant technical finesse" and "deep emotional penetration" (Offenbach-Post, Germany), and for the "charismatic generosity of communication in his music." (The Telegraph, Calcutta, India).
Mr. Cutmore made his Chicago recital debut in the Dame Myra Hess Memorial Concerts in 2005 with an all-Liszt programme that was broadcast live on WFMT radio, and shown on Chicago Cable TV 25. Since then he has returned twice to the Hess series, and has performed in Canada's Elora, Music Niagara, and Colours of Music festivals, Los Angeles' Sundays Live series, Calgary's Celebrity Series, and at venues in New York City, San Francisco, Toronto, Cleveland, Cincinnati, Edmonton and elsewhere across North America.
His concert performances, and an ardent interest in foreign travel, have frequently taken him abroad to Germany, Hungary, Lithuania, Spain, and India. These performances have included appearances at the National Centre for the Performing Arts (Mumbai), the Alliance Francaise (Bangalore), and the India International Centre (New Delhi), as well as at the Franz Liszt Museum in Budapest, and the International Music Festival in Burgos, Spain.
In 2008, Mr. Cutmore's debut commercial CD, an album of piano music by Spanish composer Manuel de Falla on Centaur Records, was released to critical acclaim. Gramophone magazine praised his "warm, generous sonority and natural feel for the idiom" and raved that "this pianist's gorgeously variegated legato makes a sexy and inviting recital." Mr. Cutmore's interpretations of the Spanish piano repertory have gained notice in concert as well. The Times Argus in Vermont has written that "Cutmore performed this most evocative music with flair. His colorful playing proved vibrant and exciting."
Mr. Cutmore's avid interest in chamber music has led to many collaborations, both traditional and unusual, including past partnerships with Lithuanian pianist Guoda Gedvilaite, and with concert organist Daniel Sullivan. One of Mr. Cutmore's current projects is a collaboration with narrator (and former CBC radio personality) Rick Phillips, in works for solo piano and narrator by composers such as Debussy, Roussel, Poulenc, Prokofiev, Saint-Saens and others, in live concert performances for children. Mr. Cutmore also partners with Paris-based cellist Antoine Pierlot.
Mr. Cutmore's major teachers have included Stephanie Brown, Robert Shannon, and Michael Massey. Currently based in New York City, Jason Cutmore is originally from Edmonton, Canada, and is the founder and director of Alberta Pianofest. He also serves on the faculties of two historic community music schools in Manhattan, the Third Street Music School Settlement, and Turtle Bay Music School.
---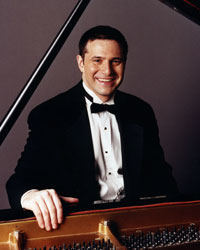 Dr. Adam Kent
July 8 – 11
Pianist Adam Kent has performed in recital, as soloist with orchestra, and in chamber music throughout the United States, Italy, Spain, Switzerland, and Latin America. A winner of the American Pianists Association Fellowship and Simone Belsky Music Awards, Dr. Kent also received top prizes in the Thomas Richner, the Juilliard Concerto, and the Kosciuszko Foundation Chopin Competitions, and is a recipient of the Arthur Rubinstein Prize and the Harold Bauer Award. Dr. Kent made his New York recital debut at Weill Recital Hall in 1989, and has been featured on WQXR, WNYC, WFUV, WVOX and Sirius Radio stations. Chamber music has been an important part of Dr. Kent's concert life, most prominently with the Damocles Trio, which has performed both in the United States and abroad. The group's recording of Joaquín Turina's complete piano trios and quartet with Emerson Quartet violist Lawrence Dutton was released by Claves Records in 2004, followed up by their recording of Heitor Villa-Lobos's complete piano trios and Oscar Lorenzo Fernândez's Trio brasileiro in 2009.
Spanish music has been a specialty of Dr. Kent's, whose advocacy has been acknowledged by the Spanish government on numerous occasions. In 2011, King Juan Carlos I of Spain honored the pianist by bestowing Spain's Orden al Mérito Civil, and the Consulate General of Spain in NY underwrote Dr. Kent's course on the history of Spanish music at Brooklyn College. The Spanish Consulate has also sponsored numerous appearances by Dr. Kent at NY's Weill Recital Hall at Carnegie Hall, and the Spanish Ministry for Education and Culture awarded him a grant for Música por doquier/Hispanic Music Everywhere, a year-long celebration of Spanish and Latin-American in NYC with the Damocles Trio and Spanish composer and conductor Salvador Brotons. The Foundation for Iberian Music at the CUNY Graduate Center and the King Juan Carlos I of Spain Center at NYU have also sponsored a number of Dr. Kent's Hispanic-themed projects, including commissions of new works by Tania León, Salvador Brotons, Miguel-Ángel Roig-Francolì, and others. Most recently, the State University of New York at Oneonta awarded Dr. Kent several grants to conduct research in Spain and to assist the institution in establishing long-distance learning programs with universities in Cartagena, Colombia.
Dr. Kent's critically acclaimed recording of the complete piano works of Ernesto Halffter is available on Bridge Records, and a recent performance of Book I of Albéniz's Iberia suite was praised in the Indianapolis Star as "Albénizian to the core…his suave legato touch wedded to a tone with an Old World patina about it." Excelsior of Mexico City enthused about a recent all-Spanish recital, "Adam Kent brought not only magnificent technical ability to the music, but managed to go beyond the printed page, delving into the essence of what the composer sought to express." Dr. Kent's expertise in this repertory has also extended to interviews and performances in several recent documentaries on Spanish composers Enrique Granados and Manuel de Falla. At present, a recording of Tania León's complete piano music is in the works, as well as a documentary on Federico Mompou.
Summers find Dr. Kent serving as Director of Cultural Outreach at the Burgos International Music Festival in Spain and teaching and performing at the Summit Music Festival in N.Y. and at the Cursos de Verano of the Fundación Princesa de Asturias in Oviedo. Recent performances include a concert of works by Ibizan composer Miguel-Angel Roig-Francoli at Carnegie Hall, a recital at N.Y.C.'s (le) poisson rouge broadcast on The Classical Network radio station, the world-premiere of a newly-written piano trio by Argentine composer Sebastian Zubieta's at N.Y.C.'s Look and Listen Festival, performances with the Westchester Chamber Symphony and the New Jersey Baroque Orchestras, concerts in Havana, Cuba and a recital of works by Tania León at the University of California at Riverside.
Dr. Kent received a D.M.A. from The Juilliard School, where he studied with Jerome Lowenthal and served as an adjunct professor. His dissertation, The Use of Catalan Folk Materials in the Works of Federico Mompou and Joaquín Nin-Culmell, was awarded the school's Richard F. French Prize, and his writings have appeared in Music in Art Cambridge Scholars journals and in a Spanish-language monograph on Xavier Montsalvatge published by the Spanish Society of Authors and Editors. He holds B.M. and M.M. degrees from the Manhattan School of Music, where he studied with Solomon Mikowsky. Dr. Kent is on the Piano Faculty of Manhattan School of Music Precollege Division, and was recently appointed to the full-time faculty of SUNY Oneonta.
---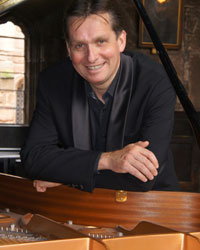 Dr. Murray McLachlan
July 8 – 16
"Murray McLachlan is a pianist with a virtuoso technique and a sure sense of line. His timing and phrasing are impeccable, and his tone-full but unforced in the powerful passages, gentle and restrained in the more lyrical- is a perpetual delight" (BBC MUSIC MAGAZINE)
Since making his professional debut in 1986 at the age of 21 under the baton of Sir Alexander Gibson, Murray McLachlan has consistently received outstanding critical acclaim.  Educated at Chetham's School of Music and Cambridge University, his mentors included Ronald Stevenson, David Hartigan, Ryszard Bakst, Peter Katin and Norma Fisher. His recording career began in 1988 and immediately attracted international attention. Recordings of contemporary music have won numerous accolades, including full star ratings, as well as 'rosette' and 'key recording' status in the Penguin Guide to CDs, and 'Disc of the month' and 'Record of the month 'in 'Music on the web' and 'The Herald'. McLachlan's discography now  includes over forty commercial recordings, including the complete sonatas of Beethoven, Myaskovsky and Prokofiev, the six concertos of  Alexander Tcherepnin, the 24 Preludes and Fugues of Rodion Shchedrin, Ronald Stevenson's 'Passacaglia on DSCH' the major works of Kabalevsky, Khatchaturian and the complete solo piano music of Erik Chisholm.
McLachlan's repertoire includes over 40 concertos and 25 recital programmes.  He has performed the complete Beethoven piano sonata cycle six times, as well as the complete piano music of Brahms. He has given first performances of works by many composers, including Martin Butler, Ronald Stevenson, Charles Camilleri, Michael Parkin and even Beethoven! He has appeared as soloist with most of the leading UK orchestras. His recognition has been far-reaching, bringing invitations to perform on all five continents. At the same time he continues to give numerous concerts and master classes in the UK.
McLachlan teaches at the Royal Northern College of Music and at Chetham's School of Music in Manchester where he has been Head of Keyboard since 1997. He is the founder of the Manchester International Concerto competition for young pianists as well as the Founder/Artistic Director of the world famous Chetham's International Summer school and festival for Pianists, Europe's largest summer school devoted exclusively to the piano. As a teacher McLachlan continues to be very busy and in demand. Many of his students have won prizes in competitions and continued with their own successful careers as performers.
Murray McLachlan was editor of 'Piano Professional' Magazine from 2007-12 and is currently editor of 'Piano Journal', as well as Chair of both the UK section and international executive council of the European Piano Teachers' Association (EPTA). As well as performing and teaching, he has written three books on piano technique for Faber Music. He is also well known internationally for his numerous articles on Piano technique and repertoire.  This includes extended columns which have appeared in 'International Piano' 'Pianist' and 'Piano' Magazines. In 2012 he was awarded an honorary doctorate by the University of Dundee for outstanding services to music and education. This follows on from a knighthood awarded in 1997 by the Order of St John of Jerusalem in recognition of his services to music in Malta.
---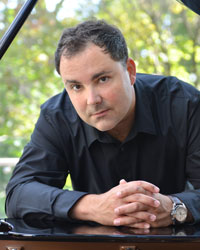 Stéphan Sylvestre
July 14 – 22
Canadian pianist Stéphan Sylvestre enjoys a very active and versatile career as a soloist, chamber musician, and pedagogue. Compared by critics to Artur Rubinstein for his natural talent and flawless technique (La Presse, Montreal), he has toured countries throughout North and South America, Europe, the Middle East and Russia. Notable venues include the Concertgebouw (Holland), St. Martin-in-the-Fields (UK), the St. Petersburg Conservatory (Russia), Place des Arts, the National Arts Centre and the Four Seasons Centre (Canada).  He has appeared with top Canadian orchestras, in Canada's leading international festivals and can regularly be heard on radio stations throughout North America, on Radio Suisse Romande.
One of Canada's most sought-after chamber musician, Mr. Sylvestre has collaborated with musicians and ensembles such as James Campbell, James Sommerville, Ransom Wilson, Martin Beaver, Rivka Golani, Alain Trudel, Andrew Dawes, Corey Cerovsek, Susan Hoeppner, Yannick Nézet-Séguin, the Penderecki String Quartet, the New Zealand Quartet, the Alcan Quartet, Quatuor Arthur-Leblanc, the New Orford String Quartet and first chairs of the Israel Philharmonic Orchestra, Toronto Symphony Orchestra and Montreal Symphony Orchestra. He has recorded under ATMA, CBC, Espace 21 Records, and Marquis Classics labels. His recordings of Brahms solo piano works were placed alongside Murray Perahia's Brahms recordings by WholeNote magazine and nominated for Recording of the Year in Quebec, Prix Opus. The Strad Magazine in the U.K. recently gave a stunning review of his recording of the works of Szymanovski for violin and piano with member of the Penderecki String Quartet, Jerzy Kaplanek.
Mr. Sylvestre has sat on juries for the Montreal International Piano Competition, the Montreal Symphony Competition and the Canadian Music Competition. He also regularly adjudicates for institutions including the Glenn Gould School, the Conservatoire de Montréal, and numerous national music festivals. Stéphan Sylvestre is Associate Professor and head of keyboard studies at Western University Canada. His teachers have included Leon Fleisher, John Perry, Marc Durand and Marek Jablonski.
---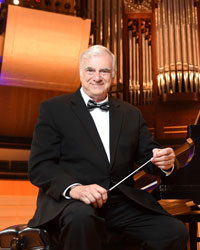 Michael Massey
July 19 – 23
Michael Massey has been a fixture in Edmonton's classical music scene for over 45 years. He has inspired thousands of young musicians through the Edmonton Youth Orchestra Programme and countless others through musical performance. Michael is an accomplished and versatile musician: he is a pianist, a conductor, an orchestrator, a programmer, and a teacher — but most of all, he is a mentor and role model for young musicians in Alberta.
Michael was born in London, England, in July 1945. At age 12, he moved with his family to Canada and started a new life in Edmonton. Two years later, he began formal piano studies under Jean-Pierre Vetter, developing as a musician and appreciating the power of a good teacher. Vetter had a way of bringing music to life for him.
After earning a Bachelor of Music degree from the University of Alberta under the guidance of Professor Alexandra Munn, Michael moved to Switzerland, spending two years at the Geneva Conservatory studying with the renowned pedagogue, Louis Hiltbrand, where he was awarded the Premier Prix de Virtuosité and performed twice as soloist with L'Orchestre de la Suisse Romande. Michael would go on to establish himself as a soloist, teacher, accompanist, and chamber musician throughout Canada.
Since 1977, Michael has been Music Director of the Edmonton Youth Orchestra Programme. Since that time, the orchestra has flourished and grown, doubling from one to two orchestras: an Intermediate Orchestra for musicians aged 11 to 16, and a Senior Orchestra which starts musicians at age 14 and sees them play up to age 25. The EYO Program, which is comprised of the top players from northern Alberta, is considered to be among the best in Canada.
After nearly 40 years of heading the youth orchestras (the 2016-2017 season will be his 40th year), Michael has been a conductor, teacher, and mentor to over 6000 young musicians. His innovative, wide-ranging, and demanding repertoire selections challenge and stretch his students' abilities. Michael's time, energy, and dedication to the Edmonton Youth Orchestra Programme have resulted in wide acclaim and drawn large and diverse audiences. The Senior Orchestra played for Queen Elizabeth II and the Duke of Edinburgh in 2005, and has toured in Australia, Austria, Great Britain, Los Angeles, Ontario, Quebec, and Alberta.
Michael remains one of Edmonton's most influential artists. He continues to perform with the Edmonton Symphony Orchestra while mentoring students and leading both Edmonton Youth Orchestras. Michael's influence on the musicians of today and tomorrow will only continue to grow, as his students and the alumni of the EYO pass their love of music on to others, in Alberta and beyond. In 2016, for his long service to the Province he was awarded the Alberta Order of Excellence – the highest honour the Province of Alberta can bestow on a citizen.