Coming Soon…
Alberta Pianofest 2013 Faculty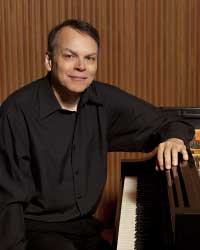 Robert Shannon
July 7 – 12
Pianist Robert Shannon has presented solo recitals, ensemble concerts, and master classes throughout the United States, Europe, South America, and Asia.  In recent seasons he has appeared in Beijing, London, Paris, Glasgow, Rome, Stuttgart, New York, San Francisco, Columbia (South America) and Taiwan.  His repertoire ranges from Bach to Adams, and he has been especially noted for his recordings of Ives' complete works for violin and piano, and works by Pulitzer Prize-winning composer George Crumb, available on Bridge Records.
He is Professor of Piano at the Oberlin Conservatory of Music, Director of the Division of Keyboard Studies, and Director and Founder of the Cooper Competition at Oberlin, which in cooperation with the Cleveland Orchestra has become one of the most important youth competitions in the world.
Mr. Shannon earned a bachelor of music degree in piano performance at the Oberlin Conservatory of Music and a bachelor of arts degree in music from Oberlin's College of Arts and Sciences, although his original intention was to major in East Asian studies. He earned a master's degree in piano performance at the Juilliard School. He has studied with Jack Radunsky, Ania Dorfmann, Dorothy Taubmann, and Vladimir Ashkenazy.  He often performs duo recital with his wife, Oberlin faculty colleague, Haewon Song.
---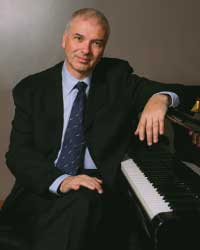 Stéphane Lemelin
July 11 – 15
Pianist Stéphane Lemelin is well-known to audiences throughout Canada and regularly performs in the United States, Europe and Asia as soloist and chamber musician.
His repertory is vast, with a predilection for the German Classical and Romantic literature and a particular affinity for French music, as evidenced by his more than twenty recordings, which include works by Fauré, Saint-Saëns, Debussy, Poulenc and Roussel. Moreover, Stéphane Lemelin is director of the French music series "Découvertes 1890-1939" on the Atma Classique label, dedicated to the rediscovery of neglected early twentieth-century French repertoire and for which he has recorded works by Samazeuilh, Ropartz, Migot, Dupont, Dubois, Rhené-Bâton, Rosenthal, Alder, Lekeu and others.
A prize-winner of the Robert Casadesus International Competition in Cleveland, he has received many national and international awards and grants, notably from the Canada Council for the Arts and the Social Sciences and Humanities Council of Canada.
Stéphane Lemelin studied with Yvonne Hubert in Montreal, Karl-Ulrich Schnabel in New York, and Leon Fleisher at the Peabody Conservatory. He received the Doctor of Musical Arts degree from Yale University, where he studied with Boris Berman and Claude Frank. He taught at the University of Alberta for more than ten years, and since 2001 has been on the faculty of the School of Music of the University of Ottawa. He served as Director of the School of Music from 2007 to 2012. A dedicated pedagogue, he has been invited to give master classes around the world. Stéphane Lemelin was a member of Trio Hochelaga from 2003 to 2012 and is the founder and Artistic Director of the Prince Edward County Music Festival.
---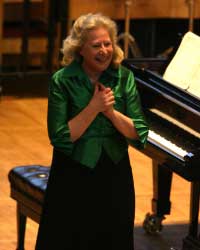 Ursula Oppens
July 16 – 20
Pianist Ursula Oppens has long been recognized as the leading champion of contemporary American piano music. In addition her original and perceptive readings of other music, old and new, have earned her a place among the elect of today's performing musicians. Ms. Oppens recently captured a Grammy Award nomination—her fourth to date—for the 2011 recording "Winging It: Piano Music of John Corigliano" on Cedille Records.
Ms. Oppens has performed with virtually all of the world's major orchestras, including the New York Philharmonic, the Boston Symphony Orchestra, the Los Angeles Philharmonic, the American Composers Orchestra, and the orchestras of Chicago, Cleveland, San Francisco, and Milwaukee. Abroad, she has appeared with the Berlin Symphony, the Scottish BBC, and the London Philharmonic Orchestras. An avid chamber musician, Ms. Oppens has collaborated with the Arditti, Juilliard, Pacifica, and Rosetti quartets.
Ursula Oppens is a Distinguished Professor of Music at Brooklyn College and the CUNY Graduate Center in New York.
---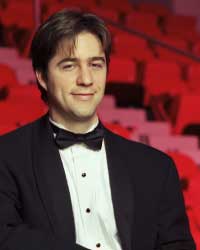 Jason Cutmore
July 6 – 21
Pianist Jason Cutmore has performed piano recitals and collaborative concerts throughout North America, Europe and India, and is regularly invited to offer guest lectures, master classes, and to adjudicate across Canada and the USA. Mr. Cutmore made his Chicago recital debut in the Dame Myra Hess Memorial Concerts in 2005 with an all-Liszt programme which was broadcast live on WFMT radio, and shown on Chicago Cable TV 25. Since then he has returned twice to the Hess series, and has performed in Canada's Elora, Music Niagara, and Colours of Music festivals, and in concert series in New York City, Los Angeles, San Francisco, Cleveland, Cincinnati, Calgary and elsewhere throughout North America. Mr. Cutmore's collaboration with narrator (and former CBC radio personality) Rick Phillips, in works for solo piano and narrator by composers such as Debussy, Roussel, Poulenc, Prokofiev, Saint-Saens and others, in live concert performances for children, reflects his desire to expose young people to the beauty of classical music, and his dedication to music education.
Currently based in a New York City suburb, Mr. Cutmore is originally from Edmonton, Canada, and serves as the Executive and Artistic Director of Alberta Pianofest. http://www.jasoncutmore.com